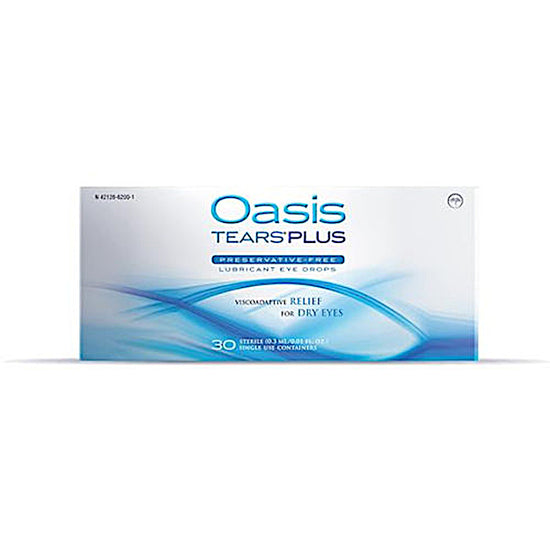 Oasis TEARS PLUS
Regular price

Sale price

$25.99

Unit price

per
Product Information
Recommended Use
Ingredients
Oasis TEARS PLUS Preservative Free Lubricant Eye Drops lubricate, moisten, and relieve symptoms of dry eye disease. Symptoms can range from irritation, dryness, burning, gritty (foreign body sensation), and may have other underlying causes
30 sterile single-use vials per box

Preservative-free

Recommended for the relief of moderate dry eye symptoms

Use daily as needed, or as directed by your eye care professional
Oasis TEARS PLUS Lubricant Eye Drops coat, lubricate, and moisten delicate eye tissue. With each blink, a special substance in OASIS TEARS PLUS combines with the active ingredient, glycerin, to keep tears on the eye surface for a long time. This unique combination coats and recoats the surface of the eye for continued relief of dry, irritated eyes. 
Recommended use: Instill 1 drop in affected eyes as needed, or as directed by your eye doctor. Once opened the contents of each individual vial should be used within 24 hours.
Ingredients: Glycerin, Hyaluronate Sodium, Sodium Chloride, Sodium Phosphate monobasic unspecified form, Sodium phosphate dibasic unspecified form, Water.